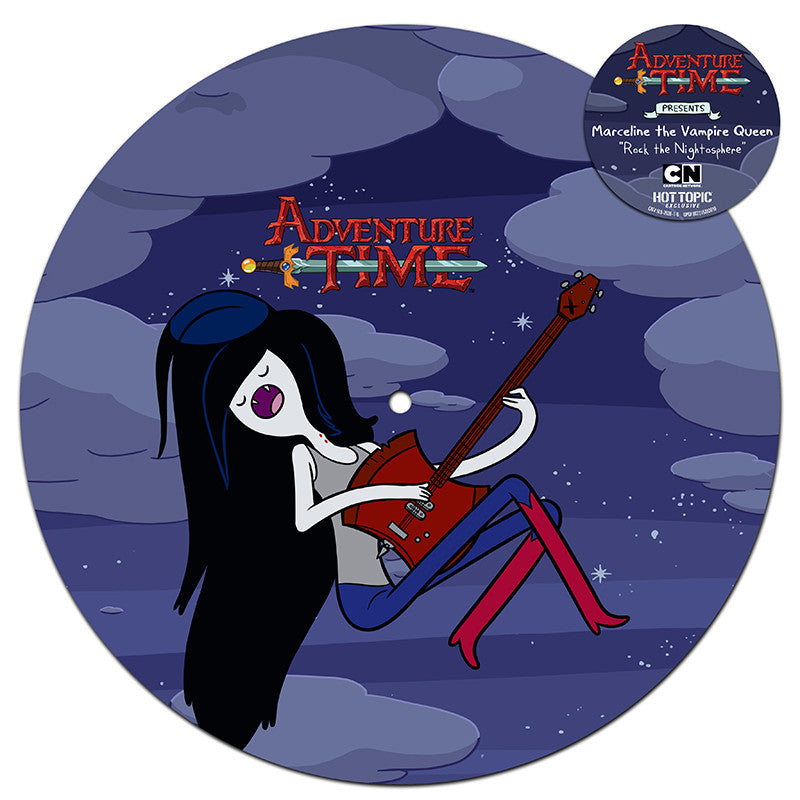 Marceline the Vampire Queen, a fan favorite character from the wildly popular Cartoon Network animated series Adventure Time has taken the spotlight this week, in the all-new eight-part series "Stakes," which is currently in the middle of its week-long run on the network. In the four-night special event which concludes tonight, fans get answers to their burning questions about one of the Land of Ooo's coolest and most mysterious residents..
In conjunction with the "Stakes" on-air event and celebration of all-things Marceline, Cartoon Network and SPACELAB9 have partnered to launch the ADVENTURE TIME PRESENTS: MARCELINE THE VAMPIRE QUEEN "ROCK THE NIGHTOSPHERE" PICTURE DISC MINI LP which will be available exclusively at Hot Topic retail stores and at hottopic.com beginning November 20, 2015. 
This exclusive record marks the first musical release, in any format, to feature original music from Cartoon Network's Emmy® Award-winning series, a distinction not lost on SPACELAB9 label manager Dave Amcher: "We are super excited to be working with Cartoon Network to bring the music from Adventure Time to vinyl. This is just a taste of things to come so fellow fans stay tuned as we'll be announcing more exciting related news in early 2016." 

Be sure to join our newsletter at SPACELAB9.COM to be among the first to receive news on upcoming releases, exclusives and limited offerings!
Nov 19, 2015

Category:

News
Comments: 0