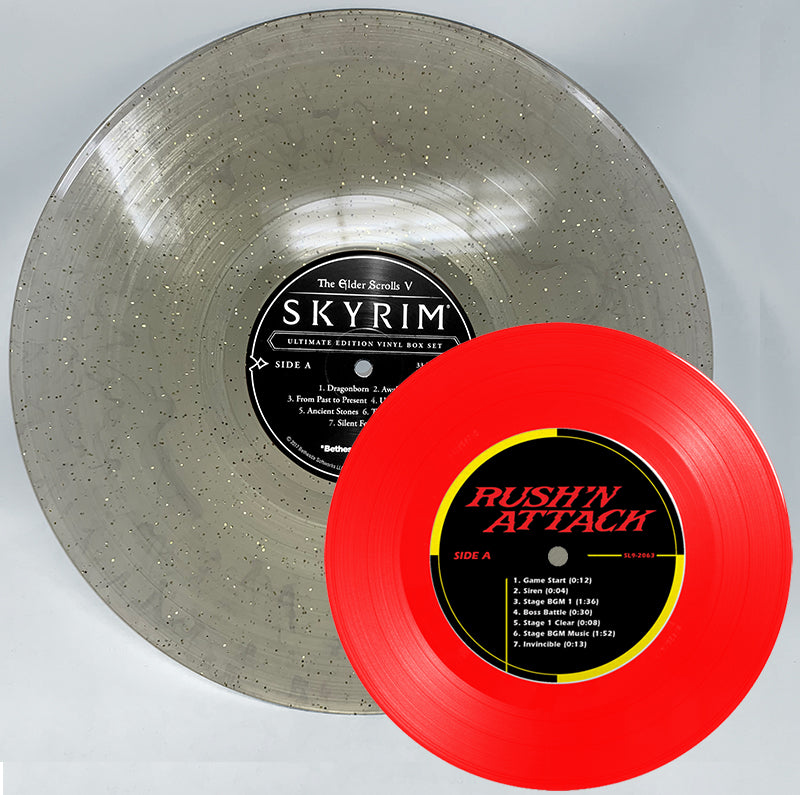 PRE-SALE BEGINS 3/31 2020 @ 1pm EST - EXCLUSIVELY AT SPACELAB9.COM

THE ELDER SCROLLS V: SKYRIM 4LP BOX SET "DRAGON SCALES" GLITTER VINYL VARIANT - SL9 EXCLUSIVE - LIMITED TO 200 COPIES *                           

Back by popular demand! THE ELDER SCROLLS V: SKYRIM "ULTIMATE EDITION" VINYL BOX SET is a formidable volume, featuring four LPs containing the full 52 track original score by BAFTA award winning composer Jeremy Soule (Morrowind, Oblivion, Guild Wars, Neverwinter Nights, Star Wars: Knights of the Old Republic). The deluxe package includes four colored vinyl LPs and a stunning, full color quad-fold jacket featuring beautiful artwork and iconic imagery from the game, and is housed in a full color heavy board-stock slipcase. Additionally, the first pressing includes an etching of the Skyrim dragon logo on the back side of the final disc (Side H).

RUSH N' ATTACK "RAPID FIRE" FLUORESCENT RED VINYL VARIANT * SL9 EXCLUSIVE - LIMITED TO 250 COPIES *

Heads-up retro gamers! This limited edition 7" is packaged in a deluxe three-spined box sleeve featuring classic artwork from the original NES game box plus a NES instruction booklet-style insert. Limited to only 250 copies on fluorescent red vinyl.
Mar 30, 2020

Category:

News
Comments: 0