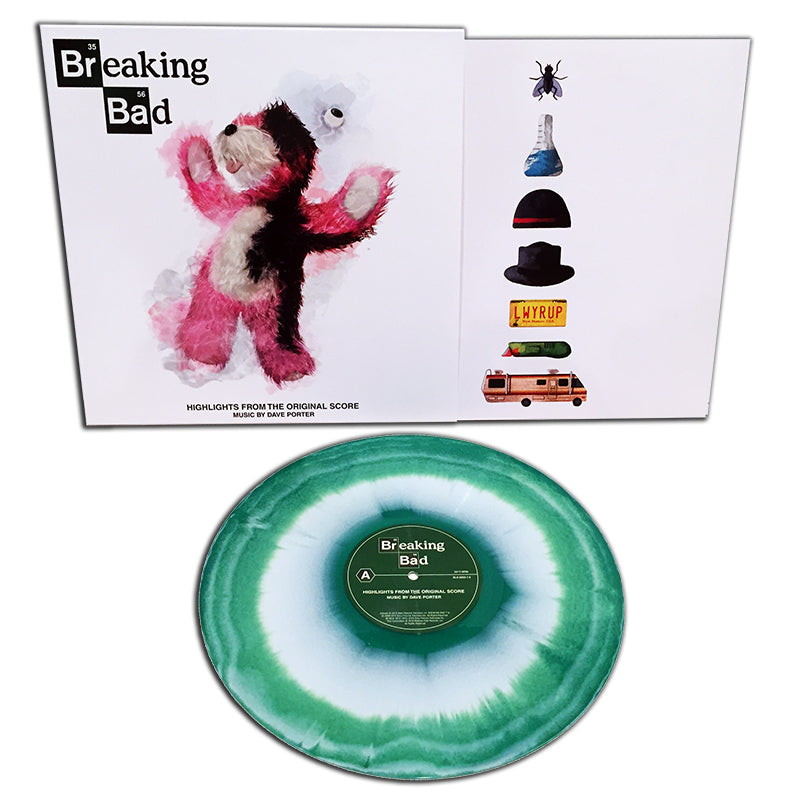 July 10th, 2018 – In commemoration of the tenth anniversary of the Emmy® Award-winning series Breaking Bad, SpaceLab9, in partnership with Madison Gate Records, are happy to announce the release of BREAKING BAD: Highlights From The Original Score (10th Anniversary) LP. Featuring a track listing hand-selected by renowned series composer Dave Porter, the album also includes a brand new remix of the "Breaking Bad Main Title Theme" and a previously unreleased track entitled "Magnets".
 
The BREAKING BAD: Highlights From The Original Score (10th Anniversary) LP is packaged in a full color jacket with spot gloss accents which highlight the album's gorgeous stylized artwork and comes on green and white colored vinyl. The album will be available to purchase exclusively from FYE and will make its debut at San Diego Comic-Con on July 19th, where original Breaking Bad cast members Bryan Cranston, Aaron Paul, Dean Norris, Anna Gunn, Bob Odenkirk, Giancarlo Esposito, Betsy Brandt, Jonathan Banks and RJ Mitte will join series creator Vince Gilligan on a panel for a Q&A. The LP can be purchased on-site during SDCC at the FYE pop up shop located at Westfield Horton Plaza or pre-ordered online beginning today at www.fye.com/breakingbad-exclusivevinyl
 
Considered by many to be one of the greatest television series of all time, BREAKING BAD saw its viewership continually increase over the series' run thanks in part to overwhelming positive word of mouth, and the series finale was watched by approximately ten million viewers. BREAKING BAD also won numerous awards, including 16 Primetime Emmy® Awards and two Golden Globes®, and was named one of the best-written TV series of all time by the Writers Guild of America.
 
The track listing for BREAKING BAD: Highlights From The Original Score (10th Anniversary) LP is as follows:
 
Side 1:
1. Breaking Bad Main Title Theme (10th Anniversary Remix) (5:00) [previously unreleased]
2. You're All They Talk About (2:21)
3. The Missing Piece (1:37)
4. Eyeball In The Drawer (1:43)
5. Jane's Demise (2:18)
6. The Long Walk Alone (Heisenberg's Theme) (3:13)
7. Crawl Space (3:32)
 
Side 2:
8. Cleaning House (1:46)
9. Disassemble (3:22)
10. White House Visit (2:07)
11. Gas Can Rage (3:29)
12. The Morning After (2:23)
13. Magnets (2:12) [previously unreleased]
14. The Final Hat (2:12)
15. Dimple Pinch Neat (2:24)
Be sure to join our newsletter at SPACELAB9.COM to be among the first to receive news on upcoming releases, exclusives and limited offerings!
Jul 10, 2018

Category:

News
Comments: 0