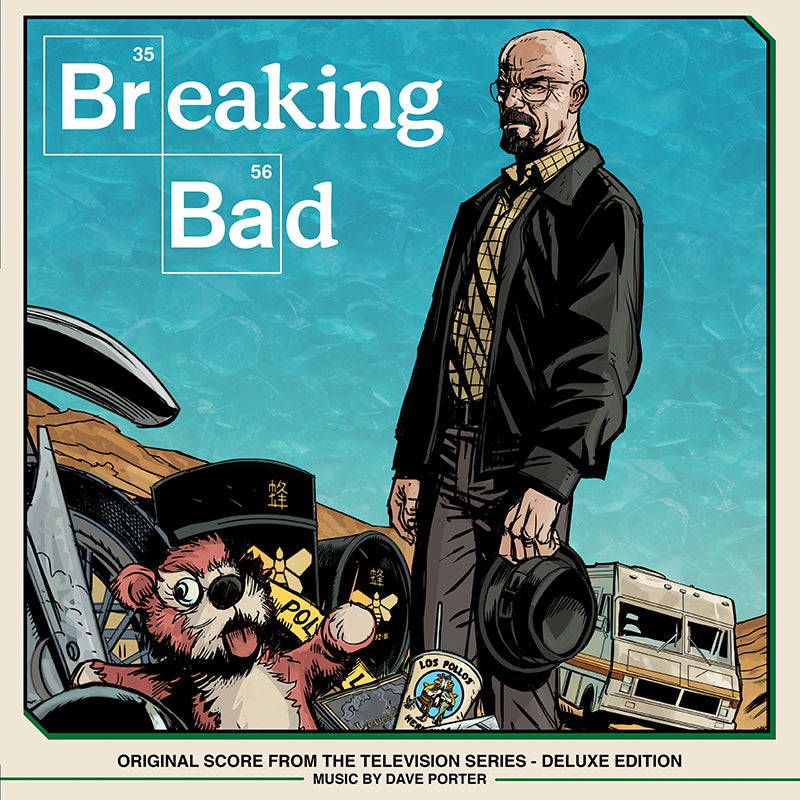 September 4th, 2018 – Following the release of the Highlights album in July, which included 40 minutes of favorite musical moments hand-picked by composer Dave Porter, Spacelab9, in conjunction with Madison Gate Records, presents the BREAKING BAD: Original Score From The Television Series (Deluxe Edition Four LP Box Set), coming September 28th. Featuring 46 tracks clocking in at over 150 minutes, this monumental set is the ultimate vinyl collection of score music from BREAKING BAD.  The comprehensive collection, commemorating the tenth anniversary of the Emmy® Award-winning series, features every score track previously released from the series and is a must-have for all die-hard fans.

The packaging for the BREAKING BAD: Original Score From The Television Series (Deluxe Edition Four LP Box Set) includes stunning original comic book-style artwork on a quad-fold jacket, plus a full-color insert featuring detailed track-by-track commentary from series composer Dave Porter, all housed in a hard-bound slip cover. Hitting store shelves on September 14th and available exclusively from FYE, this set is sure to be as in-demand as its namesake as the pressing is limited to 1,000 units on "Blue Sky" meth blue vinyl.  Fans will want to visit their local FYE or pre-order online HERE to ensure that they get their copy while supplies last!

Considered by many to be one of the greatest television series of all time, BREAKING BAD saw its viewership continually increase over the series' run thanks in part to overwhelming positive word of mouth, culminating with the series finale which was watched by over ten million viewers. BREAKING BAD also won numerous awards, including 16 Primetime Emmy® Awards and two Golden Globes®, and was named one of the best-written TV series of all time by the Writers Guild of America.

The track listing for BREAKING BAD: Original Score From The Television Series (Deluxe Edition Four LP Box Set) is as follows:

Side 1:
1. Breaking Bad Main Title Theme (Extended) (1:15)    
2. Matches in the Pool (2:06)
3. Smoking Jesse's Pot     (2:00)
4. The Bike Lock (1:50)
5. Gray Matter     (3:08)
6. The Missing Piece (1:37)
7. The Morning After (2:23)

Side 2:
8. Breaking Bad Season One End Credits (0:33)
9. Walt Bandages His Leg (1:36)
10. You're All They Talk About (2:21)
11. Follicles (1:25)
12. Vent (1:33)
13. Three Days Out (3:01)
14. Baby's Coming (4:08)
15. Jane's Demise (2:18)

Side 3:
16. The Cousins (3:25)
17. Hank in Pursuit (3:49)
18. 308 Negra Arroyo Lane (1:23)
19. The Long Walk Alone (Heisenberg's Theme) (3:13)
20. Eyeball in the Drawer (1:43)
21. Searching for Jesse (2:21)    

Side 4: 
22. Aztek (2:38)
23. Four Corners / Waiting for the End (4:11)
24. Jesse in Mexico (3:52)
25. Salud (2:58)
26. Crawl Space (3:32)

Side 5: 
27. Breaking Bad "Sunset" End Credits (1:41)
28. Building a Bomb (1:30)
29. Parking Garage Standoff (3:23)
30. Cleaning House (1:46)
31. Magnets (2:12)

Side 6:
32. Dead Freight (9:02)    
33. Disassemble (3:22)
34. Radiator (2:20)
35. White House Visit (2:07)

Side 7:
36. Almost Alaska (1:42)
37. Fumes (3:14)
38. Gas Can Rage (3:29)    
39. Circling the Square (4:14)    
40. To'hajiilee (3:56)

Side: 8:
41. Breaking Bad Main Title Theme (10th Anniversary Remix) (5:00)
42. Hank's Last Stand (2:26)
43. Chained Dog (3:14)
44. We're a Family (1:39)
45. The Final Hat (2:12)
46. Dimple Pinch Neat (2:24)

Be sure to join our newsletter at SPACELAB9.COM to be among the first to receive news on upcoming releases, exclusives and limited offerings!
Sep 04, 2018

Category:

News
Comments: 0