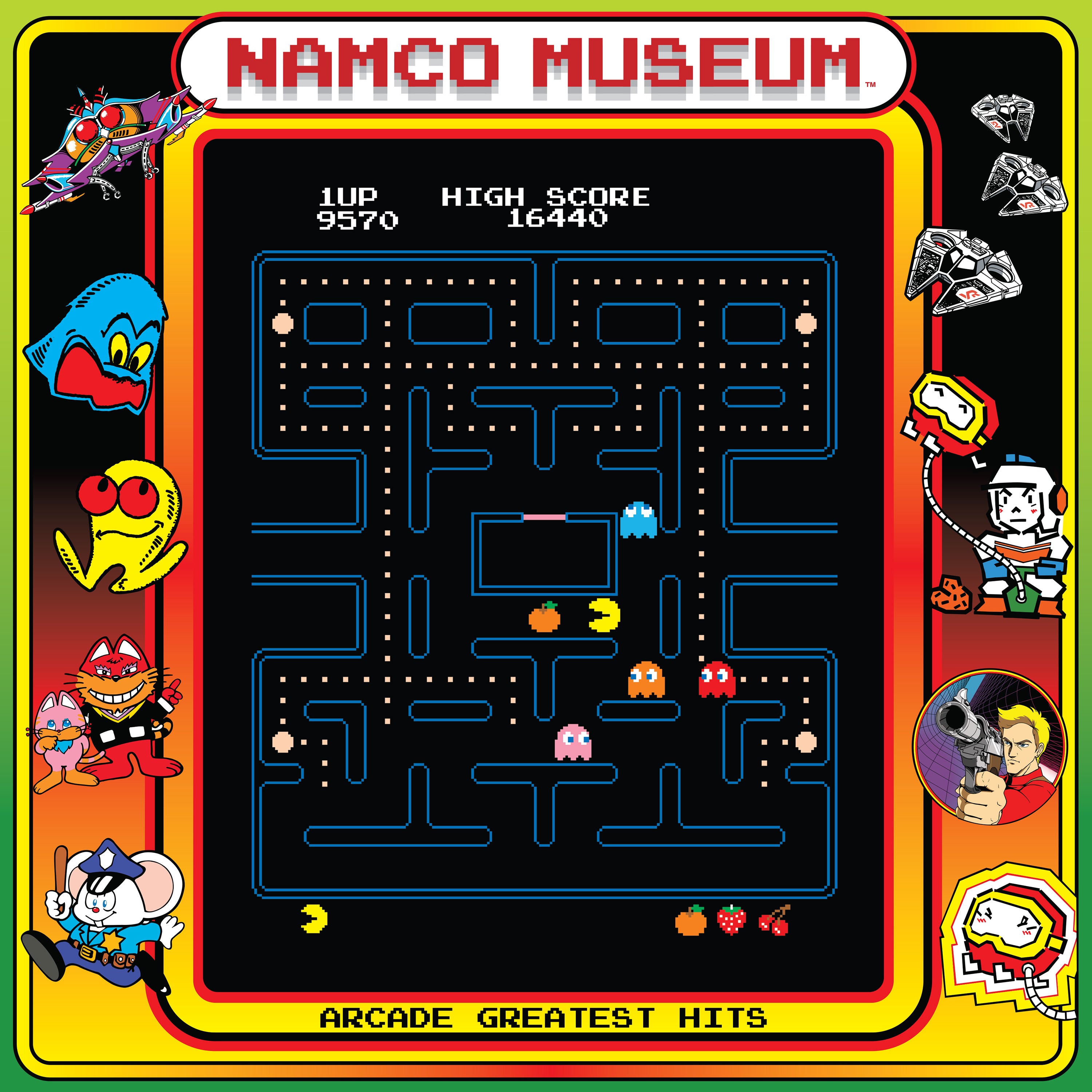 February 27th, 2018 – Flashback to the neon-colored decade when video killed the radio star, synth was the wave and video arcades dotted the landscape; the glorious 1980s! Prepare to relive the sounds and sights of the golden age of video games in your own living room with the release of the NAMCO MUSEUM: ARCADE GREATEST HITS LP brought to you by the creative team at SPACELAB9 in partnership with Bandai Namco Entertainment.

We begin at the beginning with PAC-MAN - the first name in arcade royalty – and from there the audio adventure continues throughout the decade with pixel-perfect legends GALAGA, BOSCONIAN, NEW RALLY X, DIG DUG, XEVIOUS and MAPPY. The mid-late 80's are equally represented with iconic arcade titles TOWER OF DRUAGA, GAPLUS, DRAGON BUSTER, THE RETURN OF ISHTAR, SKY KID, ROLLING THUNDER and SPLATTERHOUSE.

The first pressing of the NAMCO MUSUEM: ARCADE GREATEST HITS LP comes packaged in a "multicade" die-cut jacket, which simulates an actual arcade cabinet bezel, interacting with the full color, heavy stock inner sleeve allowing you to display your choice of action screens from PAC-MAN, GALAGA, MAPPY or DIG DUG! The package also includes a stunning 8-page full-color booklet featuring original arcade artwork and additional information about each game. A limited edition "Pixel Explosion" colored vinyl variant is available now, exclusively from ThinkGeek.com while supplies last.

The track listing is as follows:

Side A:
1. Game Play (1:56) Pac-Man
2. Game Play (2:56) Galaga
3. Game Play (3:16) New Rally X
4. In-Game Music (2:50) Mappy
5. Game Play (1:41) Xevious
6. Game Play (1:42) Dig Dug
7. High Score (0:49) Dig Dug
8. Game Over (0:03) Dig Dug
9. Game Play (3:58) Bosconian

Side B:
10. Game Play (5:08) Gaplus
11. BGM: Crag (1:15) Dragon Buster
12. In-Game Music (1:42) Tower of Druaga
13. Sky Kid March (1:38) Sky Kid
14. Game Over (0:04) Sky Kid
15. Main Theme (1:45) The Return of Ishtar
16. Main BGM (3:20) Rolling Thunder
17. Evil Cross & Nightmares (1:21) Splatterhouse
18. Ending (2:15) Splatterhouse
19. Miss (0:03) Pac-Man

Be sure to join our newsletter at SPACELAB9.COM to be among the first to receive news on upcoming releases, exclusives and limited offerings!
Feb 27, 2018

Category:

News
Comments: 0