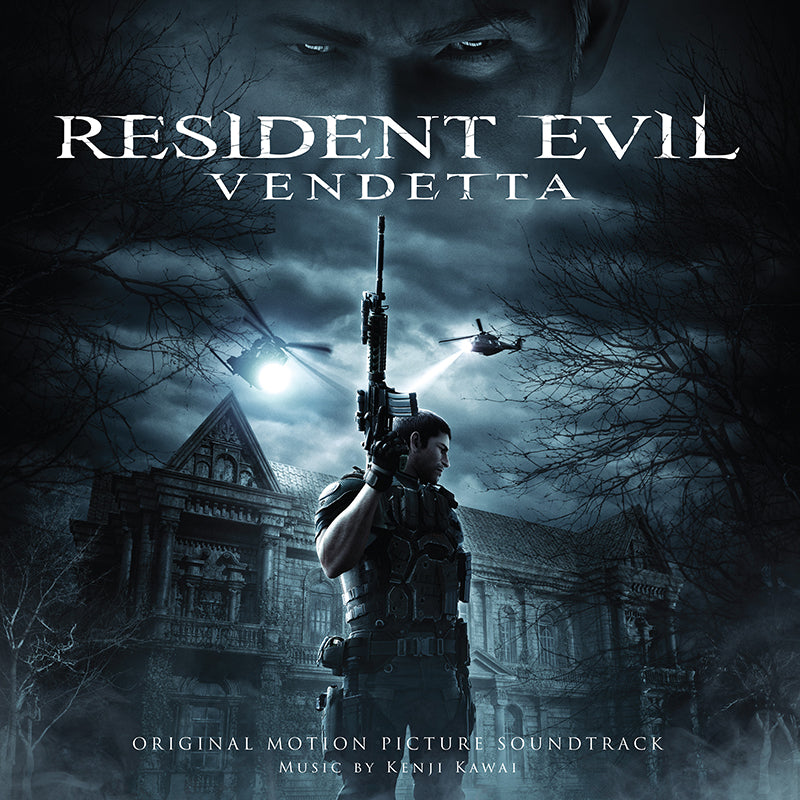 February 6th, 2018 - SPACELAB9, in partnership with Madison Gate Records, announces the release of RESIDENT EVIL: VENDETTA (ORIGINAL MOTION PICTURE SOUNDTRACK) double LP. The album, from the CG-animated film based upon the wildly popular survival horror video game series from Capcom, will be released as a double LP and features the full 30 track original soundtrack by famed composer Kenji Kawai. This deluxe double LP comes packaged in a full color gatefold jacket with a limited edition "G-Virus" colored vinyl variant available exclusively from ThinkGeek.com, starting Friday, February 9th.

With the distinction of being the benchmark of the survival horror genre, the Resident Evil series has shipped over 80 million copies of its games worldwide and has branched out across a wide breadth of media including manga, as well as a successful franchise of live action films and the CGI-animated series of films in which Resident Evil: Vendetta exists. Produced by Japanese animation studio Marza Animation Planet (Space Pirate Captain Harlock), Resident Evil: Vendetta brings fan favorite characters Leon S. Kennedy, Chris Redfield and Rebecca Chambers back into the fold for the third installment in this high octane, adventure horror series. Complementing this visceral cinematic animated experience is the sonic amalgamation of composer Kenji Kawai which deftly creates a variety of moods ranging from frantic to frightening and morose to somber. The transition of Kawai's compositions from the big screen to the turntable is flawlessly captured on RESIDENT EVIL: VENDETTA (ORIGINAL MOTION PICTURE SOUNDTRACK) double LP.

The track listing is as follows:

Side A
1. Operation (3:25)
2. The Search (1:18)
3. Zack (3:30)
4. Retreat (2:39)
5. Cathy (1:26)
6. Vendetta - Main Titles (0:51)
7. Arias - Lament (0:58)
8. Rebecca's Research (1:12)

Side B
9. Gas (2:47)
10. Infected (4:00)
11. Death Merchant (1:29)
12. Rocky Mountains (0:21)
13. Arias – Order (0:42)
14. Chris and Leon – Alike (1:22)
15. My Blood (1:37)
16. Patricio (2:08)
17. Abduction (2:00)

Side C
18. Animality Virus (2:37)
19. Meet Sarah (3:48)
20. Manhattan (4:56)
21. Cerberus (2:26)
22. Chris and Leon – Hideout (4:56)

Side D
23. World in Flame (1:35)
24. Diego (1:17)
25. Extreme Battle (2:28)
26. Unleash It! (0:43)
27. Ariego (2:06)
28. The Final Stage (3:25)
29. Vaccine (2:51)
30. Vendetta - End Titles (4:37)

Be sure to join our newsletter at SPACELAB9.COM to be among the first to receive news on upcoming releases, exclusives and limited offerings!
Feb 06, 2018

Category:

News
Comments: 0