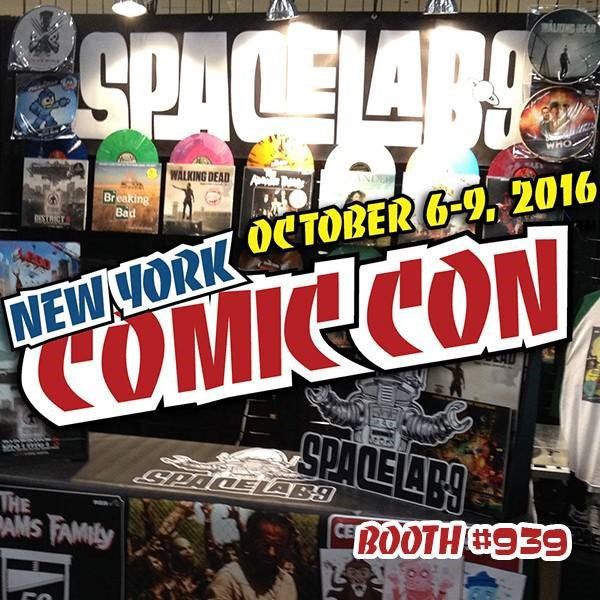 Following a successful debut in 2015, pop culture purveyors SPACELAB9 will descend once again upon the Jacob Javitz Center for this year's NEW YORK COMIC CON, appearing at booth #939 from October 6th through October 9th.

Throughout the show, SL9 will be offering several limited edition New York Comic Con-exclusive vinyl releases.Spacelab9's roster of New York Comic Con-exclusive releases will include the AMC's THE WALKING DEAD: Original Soundtrack Vol.2 LP "Brains on Blacktop" vinyl variant, a MEGA MAN: Best of Mega Man 1-10 LP "Mega-Splatter" vinyl variant as well as one brand new title that will be kept a secret until the day of the show. Let's just say this – if you're not attending NYCC this year, find a friend who is, because you're not going to want to miss this one! All Spacelab9 NYCC show exclusives are available at booth #939 on a first-come, first-serve basis, while supplies last.

In addition to the show exclusives, Spacelab9 will also be digging deep into their archive, offering several sold-out vinyl titles such as The Addams Family, The Amazing Spiderman, Doctor Who, Fallout 3, Fallout 4, The Walking Dead and more! Also available in very limited supply - Spacelab9 will be selling DOOMSDAY the debut LP from award-winning soundtrack artist and musical architect Sascha Dikiciyan, aka Sonic Mayhem. Sascha's progressive blend of cutting-edge electronics and cinematic scores have driven blockbuster video game franchises including Mass Effect and Tron as well as Deus Ex: Mankind Divided.

Building upon the fun and madness that is NYCC, the friendly robots of Spacelab9 will be hosting several contests, giveaways and listening parties throughout the four day event, while also spilling some secrets about some exciting upcoming releases, so be sure to stop by booth #939!

Be sure to join our newsletter at SPACELAB9.COM to be among the first to receive news on upcoming releases, exclusives and limited offerings!
Sep 28, 2016

Category:

News
Comments: 0