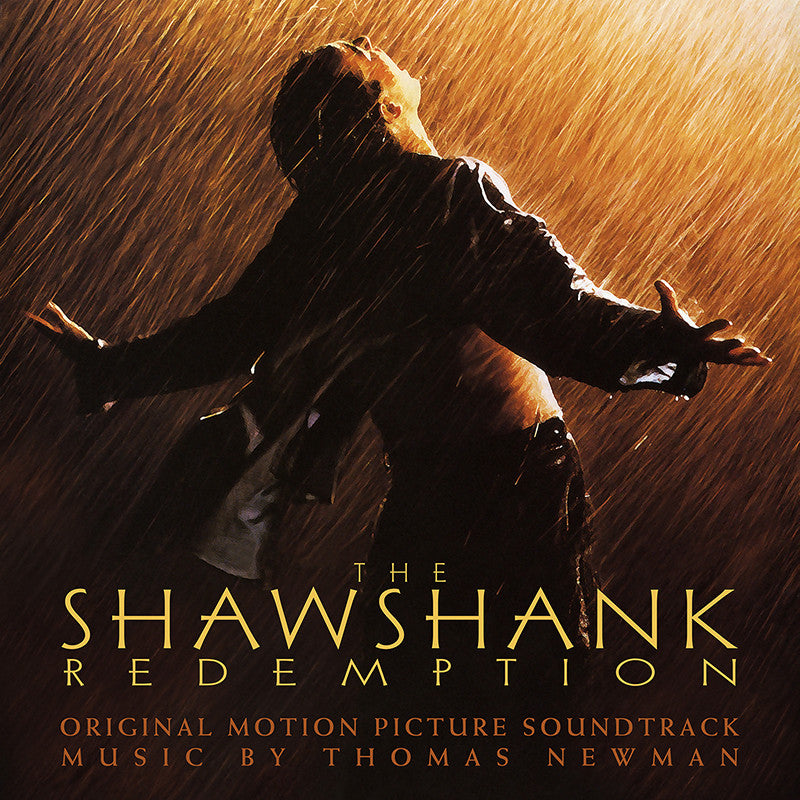 "That's the beauty of music. They can't get that from you" - Andy Dufresne

On August 12th, 2016, nearly 22 years after the film's original theatrical release, SPACELAB9 is honored to present, for the first time ever on vinyl format, THE SHAWSHANK REDEMPTION: ORIGINAL MOTION PICTURE SOUNDTRACK DOUBLE LP. The critically acclaimed soundtrack album includes the full 18-track score from award-winning composer Thomas Newman (The Green Mile, American Beauty, Spectre) as well as additional tracks by The Ink Spots and Hank Williams plus a stunning performance of Mozart's "The Marriage of Figaro" by the Deutsche Opera Berlin, recalling one of the most memorable scenes from the film. 
The deluxe 180 gram double LP package includes a gatefold jacket highlighted with sleek silver foil stamping and features several images from the iconic film as well as exclusive liner notes by composer Thomas Newman. A limited "Prison Blues" blue vinyl variant is available from Barnes & Noble, while the "Suds on the Roof" yellow vinyl variant will be made available for pre-order on August 2
nd
, exclusively at SPACELAB9.com and will also be available in extremely limited quantities from the label's booth at New York Comic Con in October.
The film adaption of the Steven King novella "Rita Hayworth and the Shawshank Redemption, renamed simply
The Shawshank Redemption
by screenwriter and director Frank Darabont (The Green Mile, The Walking Dead), although not a hit at the box office upon its 1994 theatrical release, gained traction the following year having been nominated for seven Academy Awards. Following the home video release in 1995,
The Shawshank Redemption
became the most rented film of the year and would continue to grow in popularity throughout the next two decades to become one of the most iconic, endearing and enduring films of all time. The Shawshank Redemption has sat at #1 on IMDB's user-generated list of the 250 top rated films since 2008 and in 2015 the United States Library of Congress selected the film for preservation in the National Film Registry, finding it to be "culturally, historically, or aesthetically significant".
Be sure to join our newsletter at
SPACELAB9.COM
 to be among the first to receive news on upcoming releases, exclusives and limited offerings!
Jul 26, 2016

Category:

News
Comments: 0