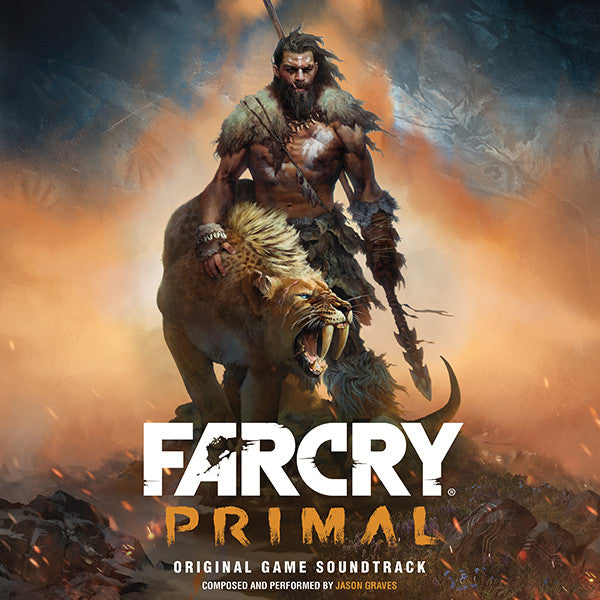 Spacelab9 in conjunction with Ubisoft are happy to announce the release of Far Cry Primal: Original Game Soundtrack double LP, available on April 21st 2017. Released as a double LP, the album features the full 21 tracks of dramatic original score from the latest entry in the Far Cry series by BAFTA-Award winning composer Jason Graves. To compliment the nearly two hours of original music, the Far Cry Primal: Original Game Soundtrack Double LP is housed in a gorgeous full-color gatefold jacket featuring striking original artwork and will be available in two different colored vinyl variant editions. The "Cave Painting" vinyl variant edition will be available exclusively from Spacelab9 while "Glacier" vinyl variant edition will be a ThinkGeek.com exclusive.
 
Renowned composer Jason Graves, whose work has graced video games such as Tomb Raider, Dead Space and Until Dawn, within the experience of Far Cry Primal, creates the perfect background soundscape to primitive man's struggle to survive in a world where certain death is always waiting just around the next corner. Employing a diverse selection of sound sources from deep within humanity's musical past, Jason Graves is able to create an organic, sweeping score that compliments the Stone Age setting of Far Cry Primal that not only immerses gamers in a open world experience but with Far Cry Primal: Original Game Soundtrack double LP vinyl enthusiasts will be able to engage in an enthralling aural experience.
 
The track listing for Far Cry Primal: Original Game Soundtrack double LP is as follows:
 
Side A
1. The Shaman's Story (1:44)
2. Save the Wenja (3:12)
3. The Fires of Conquest (3:50)
4. The Mammoth Hunt (5:59)
5. Attack of the Udam (4:16)
 
Side B
6. The Taken Wenja (3:22)
7. The Call Of The Widu (2:57)
8. Sarta Wenja (3:02)
9. Trials Of The Gwarpati (4:04)
10. Vision of Fire (3:12)
11. Prowl of the Snowblood Wolves (3:19)
 
Side C
12. The Flames of Suxli (3:17)
13. Clash of the Udam (4:06)
14. Batari's Song of Fire (2:56)
15. The Mask of Krati (6:21)
16. The Altar of Suxli (2:28)
 
Side D
17. Survival of the Udam (3:44)
18. The Wrath of Ull (5:27)
19. Vision of Beasts (4:12)
20. Hunt for the Great Scar Bear (3:21)
21. The Search for Lost Wenja (2:38)

Be sure to join our newsletter at SPACELAB9.COM to be among the first to receive news on upcoming releases, exclusives and limited offerings!
Mar 21, 2017

Category:

News
Comments: 0